360° Solutions for Agricultural
Commodities Trading

Agrinvest Commodities Solutions
Agrinvest Weekend
THE DIGITAL JOURNAL WITH INTELLIGENCE FOR AGRIBUSINESS
Agrinvest GO
Get access to daily information, from the opening to the closing of the markets, with all the updates needed for a more assertive decision making.
Stay tuned with the main topics that affect the prices of the main commodities in the agro world: corn, soybean complex, wheat, live cattle, cotton, coffee and crop fertilizers.



Daily Reports
Alerts
Audio and Videos


Graphics


News


Agrivisor
UTR Platform

Bringing practical knowledge of agricultural commodity trading, price risk management and global agribusiness, Agrinvest Commodities developed the product UTR.
Here you have access to online classes, so you can watch it from anywhere and whenever you want, providing you with a continuous learning experience that will take you from scratch to advanced levels in agricultural merchandising and make you an Agribusiness Trader.
You will also earn certificates according to your evolution, which will attest your level as a trader of agricultural commodities.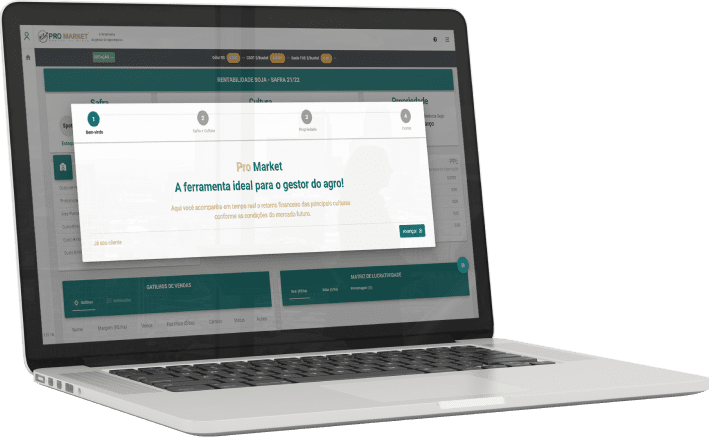 Pro Market
Agricultural merchandising success goes beyond guessing the future. It is achieved from an enhanced plan, based on your profit margins
Pro Market monitors market conditions and pulls buying and selling triggers according to profitability targets set by you.

Here you control all your trades, in addition to having real-time pricing of your inventory, regardless the region you produce.

With Pro Market you get to know your costs and make planned decisions over your merchandising.

Futures Contracts
Options Contracts
FX Exchange NDFs

Over-the-Counter (OTC)
We provide cash brokerage services in the main Brazilian agribusiness States, in the following markets: corn, soybean complex (soybean, oil and meal), wheat and sorghum;
In 2022, we have done over 2 million tons in brokerage contracts in the domestic market;
Our team for the domestic market has 14 brokers covering 7 Brazilian States;
Also, we intermediate importation contracts of corn, soy and wheat from Paraguay;
We have offices in Curitiba, Maringa-PR and in Rio Verde de Goiás.
Our portfolio in this segment has approximately 700 active customers;
We serve producers, grain elevators, cooperatives, industries and trading companies;
We provide brokerage, execution and performance services;
International Cash Market
We help our clients to trade and to build the Brazilian FOB market of corn, wheat and soybean complex, bringing domestic and international liquidity for direct export and basis hedging.
We are active in the corn, soybean complex, and wheat markets.
In 2021, we intermediated 5 million tons of grains with different destinations.
We have an experienced team with 6 brokers, located in Brazil, USA and Europe.
We have an experienced execution desk as a support.
Our main clients are multinational trading companies, consumers and distributors of grains and oilseeds.
We provide intermediation, execution and performance services.
International Cash Market
Get in touch with our Commercial Team
Register and one of our commercial consultants will contact you!
If you believe we can help you with your business, please contact us by calling, emailing or filling out the form on the left!
+55 41 3094 0200
agrinvest@agrinvest.agr.br
Headquarters – Curitiba/PR

Rua General Mário Tourinho, 1746 – Room 501 80.740-000 – Curitiba – PR, Brazil
Maringá – PR
Rua Neo Alves Martins, 2999
Room 51
Rio Verde – GO
Avenida Presidente Vargas, 266
5th Floor
Genebra – Suiça
2 Rue Jargonnant, 1207
Miami – EUA
2665 South Bayshore Drive
Suite 307
Agrinvest Weekend
The journal that brings intelligence to Agribusiness.